International Africa Open Debate Invitation
INVITATION TO THE 4th AFRICA OPEN x ORATE SCHOOLS CHAMPIONSHIPS
Ishik Medical and Education Foundation and Feza Schools cordially invite your school to the 4th Africa Open Debate Championships, known in short as "Africa Open" from the 4-7th April 2020 at the Feza International School (FIS) Salasala, Dar es Salaam campus. This year, we have partnered with the Orate Africa Trust and the Tanzania Competitive Rhetoric Organization to offer schools more activities that will breathe new life into the championship
About Africa Open
Africa Open continues the efforts of the pioneering debate movement in Tanzania using the world schools style of debate. We have invited schools from Tanzania, East Africa and around the world to ensure robust competition. The winning team will receive a winning trophy as the champions of the Africa Open and other special prizes which will be announced at the competition.
We have invited Dominic Mwakifulefule, founder and Executive Director of Tanzania Competitive Rhetoric Organization to serve as Chief Adjudicator for the competition. He will be joined by Mr Njuguna Macharia, President of the Strathmore University Debate Society as Co-Chief Adjudicator. The tournament cap is 60 teams (180 students) and 90 judges (3 per room). There is no cap for the number of public speakers a school can register.
NB: Debate and public speaking will run concurrently, meaning that a student cannot do both.
Motions for Public Speaking and Debate will be announced on Friday January 31st 2020 via the official Africa Open website www.africaopendebate.org Training materials and the World Schools Manual will be provided as soft copies for schools to print out and familiarize themselves with the debating style. Schools can also refer to the acclaimed international trainer Ms Bojana Skrt's to learn advanced methods of debate at debate blog http://betterdebatemanual.wixsite.com/better
About Orate Africa Leg 2
The Orate Africa Trust is an organization that puts speech at the centre of values. Their mantra "incarnating excellence through speech" captures the essence of their mandate, creating well rounded and articulate students. They host the first leg of Orate Africa in Southern Africa every year in December which involves Debate, Public Speaking and Spelling Bee. Leg 2 is hosted in Tanzania every April year until 2022 and it involves Quiz and Moot Court.
With Moot Court, a team comprises of a maximum of 2 students with no reserves. Schools can register as many teams as they want. Students registered for Moot Court category may also register for other categories if they so wish. A quiz team shall comprise of three students with no reserves. There is no need for adjudicators for quiz. Topics for quiz shall include but are not limited to Geography, General Knowledge on Africa, History, Current Affairs, Sports, Arts and Culture. Moot Court topics will also be announced on Friday January 31st 2020.
INTERNATIONAL PARTICIPANTS
Registration
Registration is currently open and is a strictly online process on www.africaopendebate.org
On debate team can have up to 5 speakers (3 principal speakers and 2 reserves)
REGISTRATION fee: $120 per person
Observer fee: $120 per person
Public Speaking: $50 per person
The registration fee includes the following for the whole duration of training and tournament days (April 04th – 07th, 2020):
1. Training Fees
2. Two meals a day for the duration of the competition
3. To and fro transportation from hotel/hostel/dormitory for the duration of the competition
4. Pickups and drop offs to the airport/bus station
5. Competition Running Costs
International participants will pay additional costs for accommodation based on what is best suited for them and their budget. Below are the otions:
• Four Star Hotel: $80 per person per night (Sharing)
• Four Star Hotel: $80 per person per night (Sharing)
• Three star Hotel: $50 per person per night(Sharing)
• Hostel Hotel: $20 per person per night (sharing)
• School Dormitory $10 per person per night (sharing)
NB: Single rooms can be requested at a separate fee. Please email us at info@africaopendebate.org to
inquire rates.
EXCURSIONS
A number of excursion options are available for those who are interested. A school can choose to arrive a day or two before the competition or leave a day or two after. Zanzibar Island, Mbudya Island or shopping at Kariakoo are some of the excursion options offered to those that would be interested. Please email us at info@africaopendebate.org to book an excursion day(s).
IMPORTANT DATES:
• Monday 2nd September 2019: Invitations sent and  Early Registration Opens on
• Monday 2nd September 2019: Invitations sent and  Early Registration Opens onwww.africaopendebate.org
• Friday 31st January 2020: Announcement of Motions on www.africaopendebate.org
• Friday 6th March 2020: Early Registration closes and Early Registration Payment Deadline
• Monday March 9th 2020: Late Registration Opens
• Friday 20th March 2020: Late Registration Closes and Late Registration Payment Deadline
Proposed Schedule:
Friday 3rd April 2020(Arrivals)

Saturday 4th April 2020 (Training Day/Round 1)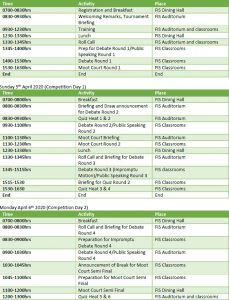 All inquiries and questions should be directed to info@africaopendebate.org.Visit our websitewww.africaopendebate.org to read further on the tournament and for telephone inquiries, call/Whatsapp+255 685 396777 or +255 684 699172. We wish all prospective participants the best of luck in their preparation for the motions and looking forward to seeing you at Africa Open.
Yours sincerely
Ibrahim Yunus
Managing Director